The IUT of Bordeaux, a French higher education institution, has 17 specialised departments spread over four sites.
Shariiing, for efficient local or remote training.
The IUT of Bordeaux and more generally education is moving towards the pedagogy of the future by implementing collaborative tools such as Shariiing to collaborate between remote sites and with students.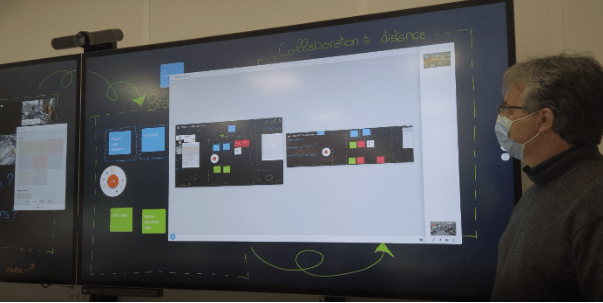 The integration of this technology makes it possible to bring geographically distant sites closer together and to create even more projects and interactions between the various actors of the IUT.
What are the uses for Shariiing within the institution?
As part of the evolution of educational solutions, Shariing has been installed at the IUT of Gradignan.
Philippe Darnis, the IUT's project leader, talks about the future use of the tool within their institution.
When asked what Shariiing will be used for, he replied, "Shariiing is used in the context of teaching sequences in our BUT (Bachelor of Technology) courses. "This interactive tool allows us to envisage teaching sequences around projects common to several departments of the IUT and located on distant sites. The interactivity offered, combined with a project-based teaching approach, is an innovative element that encourages students to get involved and promotes the construction of skills and the acquisition of knowledge.
Philippe Darnis says he particularly likes Shariiing for its ease of use, its ability to offer natural interactivity and the visual impact on the audience.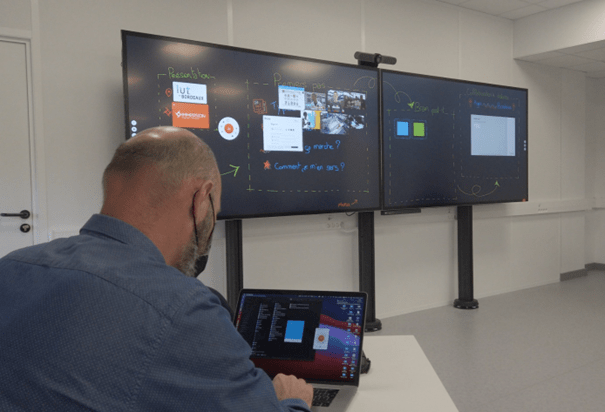 "My favourite thing about Shariiing is the client. It allows you to share the resources of the machine on which it is installed in a very fluid way. We can then interact with various business applications and bring together on the same sequence a set of skills necessary for the construction and development of multidisciplinary projects, either locally or on several sites simultaneously. Associating skills to a project even if the actors are distant while offering interactivity with the learners is really very useful.
Discover the video of the presentation of Shariiing at the IUT. This internal event took place in person at the Gradignan IUT, but also remotely for the Agen IUT:
You can also watch the video in French: https://youtu.be/aEBnoL4mR8A