You're probably familiar with Logitech, a Swiss company specialising in the production of computer peripherals.
Among its products, we find Logitech Scribe: a camera used for whiteboards to make your hybrid meetings more collaborative.
It's a nice promise and it caught our attention. So we made a video of a brainstorming session combining Shariiing and Logitech Scribe to test the power of these two complementary tools. Result in video.
How to combine the Logitech Scribe camera and Shariiing for hybrid meetings?
Keep your methods and connect your physical and virtual spaces.
Once "connected" to Shariiing, the camera, which is quick to install, allows you to view your brainstorming on the whiteboard in real time on the touch screen.
This way, you keep your usual meeting methodologies and capitalize all the data produced in one place to save a trace of your meeting.
Simply scan the content captured by Logitech Scribe into Shariiing.
Thanks to a simple thumbnail integrated in the Shariiing session, you can see in real time the progress of the work produced on the whiteboard. Combined with Artificial Intelligence, the camera has the particularity of achieving a transparency effect. This means that the person writing or drawing on the whiteboard does not appear: the letters and lines of the diagram appear as if by magic! The whiteboard is therefore always accessible and fully visible to all participants.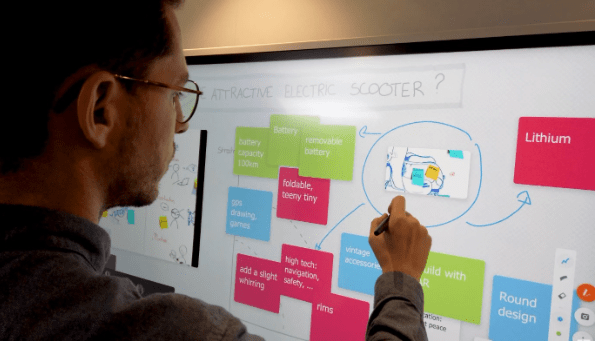 Capture, duplicate and compare with Shariiing.
Integrated into Shariiing, the camera can then capitalise on real-life information in a virtual tactile space.
It is therefore possible to annotate the information collected on the whiteboard and add any related content you wish.
Designed to fit into a modern working environment, the combination of the two technologies makes hybrid meetings a breeze.