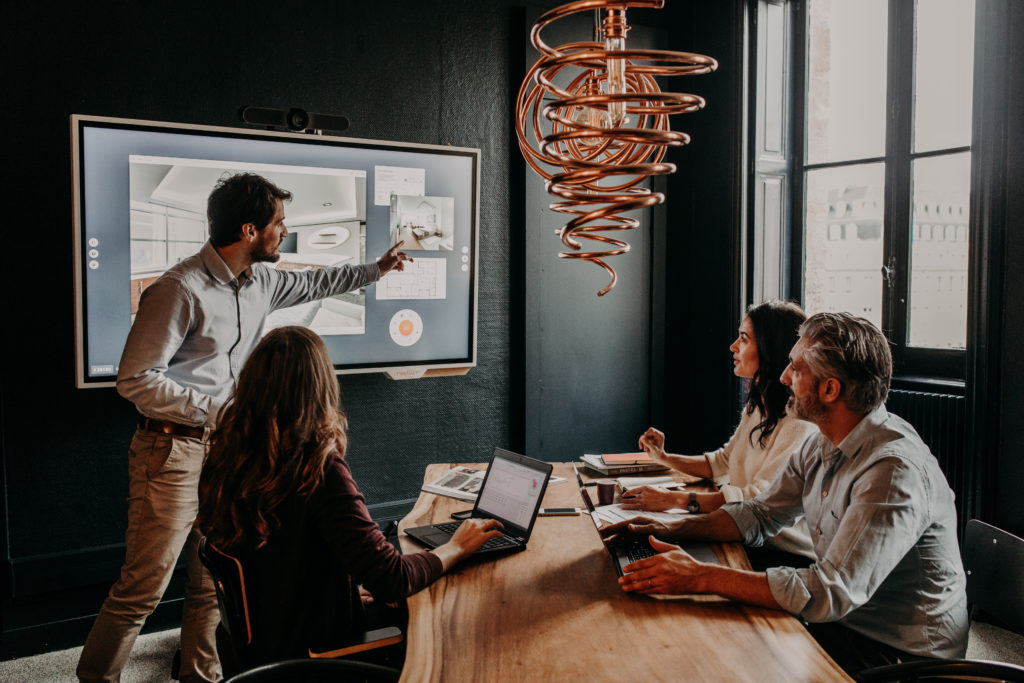 The new hybrid methods that combine face-to-face and remote work require adaptation to maintain efficiency, productivity and conviviality. It is therefore necessary to change not only our tools, but also the layout of our work spaces.
Here are our 10 tips to pay special attention to for successful hybrid collaboration:
1. Have an overview of the existing situation
This is the first step. Make an inventory of all the technological solutions currently deployed in your organisation and the workspaces dedicated to this collaboration that you now want to be hybrid. Then identify the solutions and spaces that are used by your employees. Then decide which ones deserve a place in your hybrid collaboration objective.
This mapping is essential to get a clear picture and to allow you to make the right decisions.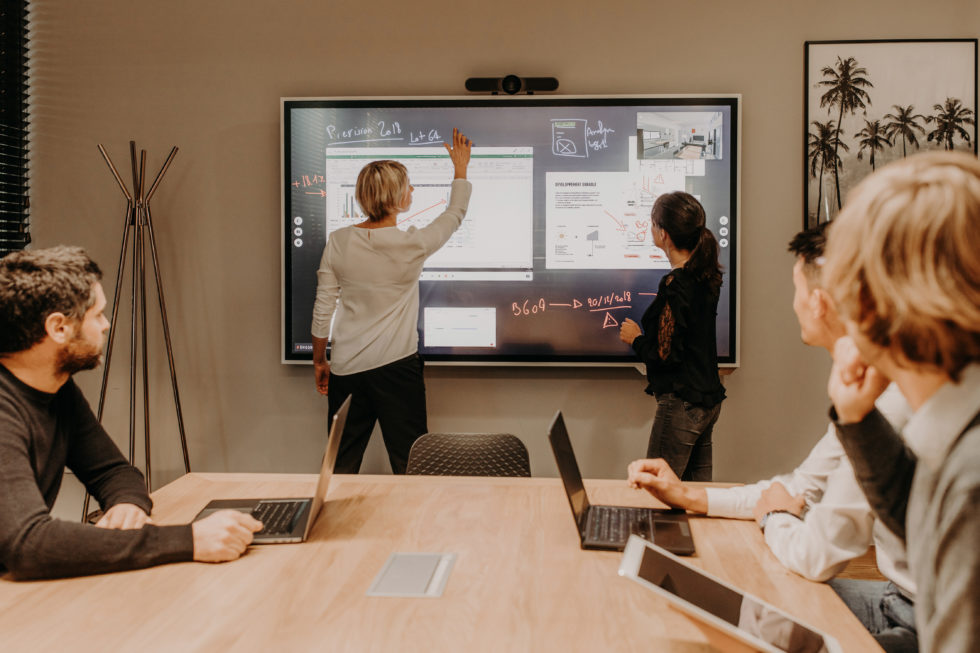 2. Identify your needs
Starting with the existing tools and spaces is essential, but also find out how your employees are working. Ask them what they need to collaborate better. In your future organisation, do you need to encourage serendipity, brainstorming, multi-site meetings, social interaction?
Clearly identifying your needs will give you the keys to find tools that fit you.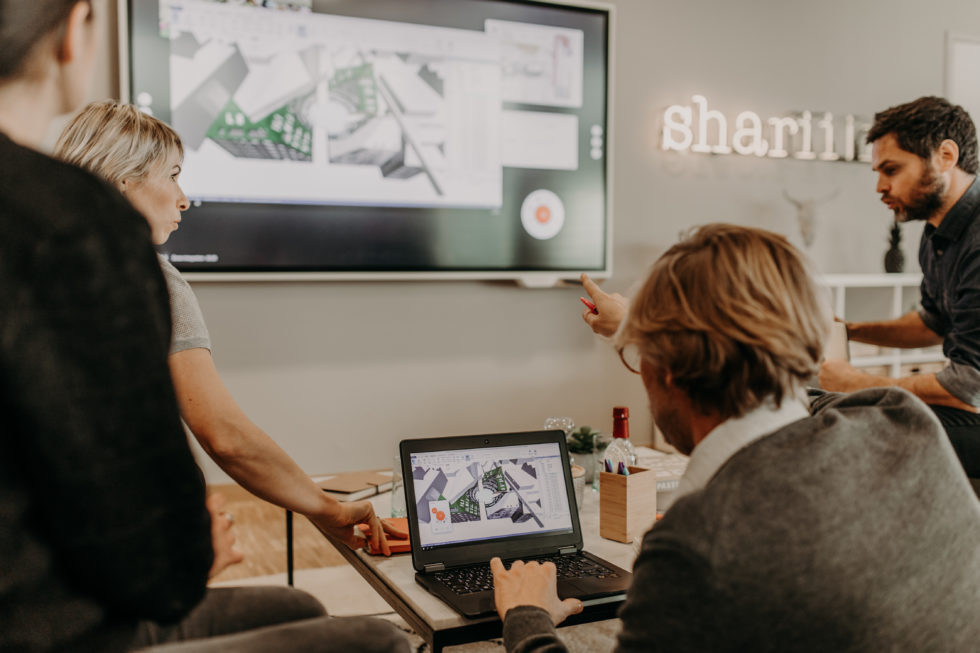 3. Keep it simple
The more user-friendly hybrid collaboration solutions you choose, the easier it will be to adopt. Your employee must clearly see the contribution of this solution to their daily life, it must facilitate their professional life. The solutions you choose should not be a complete revolution in the way they work either. A streamlined design and clearly identified functions will also help to optimize their cognitive load. The employee experience should be fluid, efficient and user-friendly.
4. Don't neglect the "fun" side
The line between work and personal life is becoming increasingly small. Employees' personal experiences influence their professional lives and vice versa. At work, they now have the same requirements in terms of design and experience. After all, you can work seriously without taking yourself too seriously! Thus, the solutions you choose must be simple, practical and fun at the same time, with a pleasant design and secondary functionalities that are a little offbeat, for example. Your employees will thank you!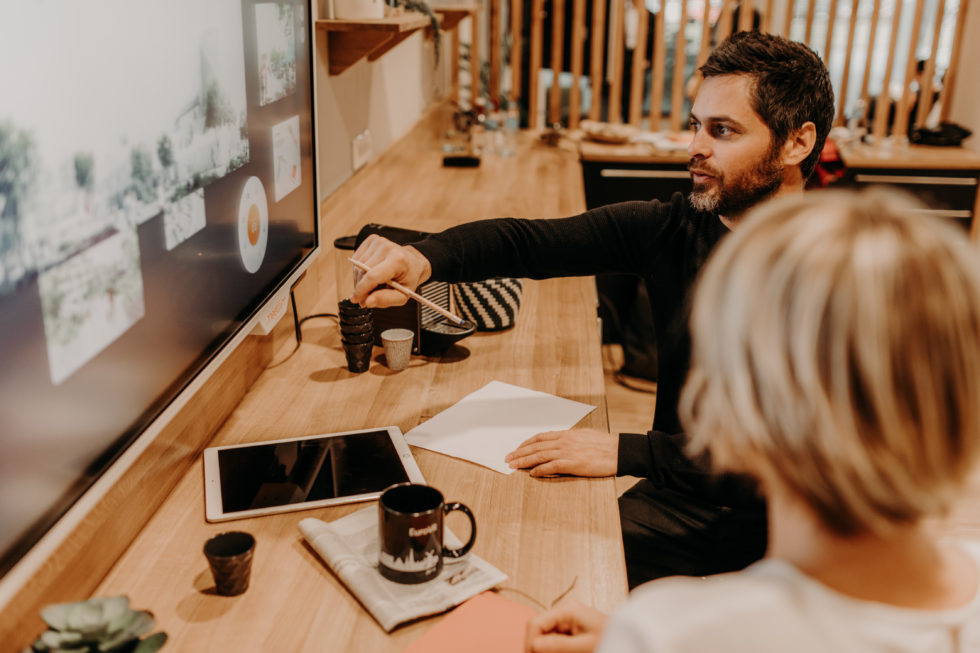 5. Adapt solutions to your employees
Employees requirements in terms of office space, networks and business processes are changing. For example, if most of your workforce belongs to the younger generation: you should know that they are adept at using new technologies. In fact, almost a third say it's one of the key criteria for joining a new company.
Solutions for hybrid collaboration must be tailored to your employees, their habits, their business tools, their level of digital transformation maturity and your corporate culture.
6. Customize the layout to your corporate culture
With the adoption of remote work, there is a major challenge when returning to the office. On the one hand, employees are more demanding when they come to the office and have one main expectation: social interaction. On the other hand, the company has to create and maintain the link that sometimes fades, and reinforce its corporate culture to bring and motivate its employees. Make sure that these social interactions are fostered in a design that is accurate to your organisation.
Imagining and designing spaces for collaboration, socialization, innovation and motivation in the face-to-face environment is a key success factor for successful hybrid collaboration.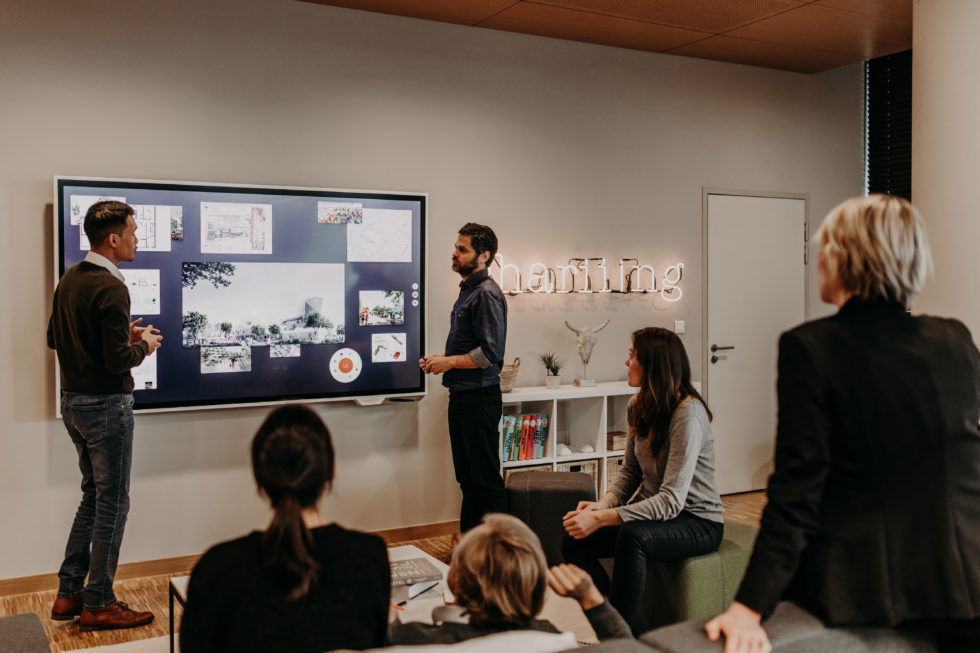 7. Engage remote employees
You have some colleagues teleworking or travelling abroad and you have to deal with an important project meeting? The good thing about these new hybrid collaboration solutions is that they have become more widely aivailable. Your workspace should allow you to connect these remote people quickly and easily. Be careful to choose a solution that does not make them mere spectators. They deserve equity by enjoying the same experience to fully participate in the meeting. Thus, a fruitful hybrid collaboration between colleagues, departments, sites and external stakeholders will be created.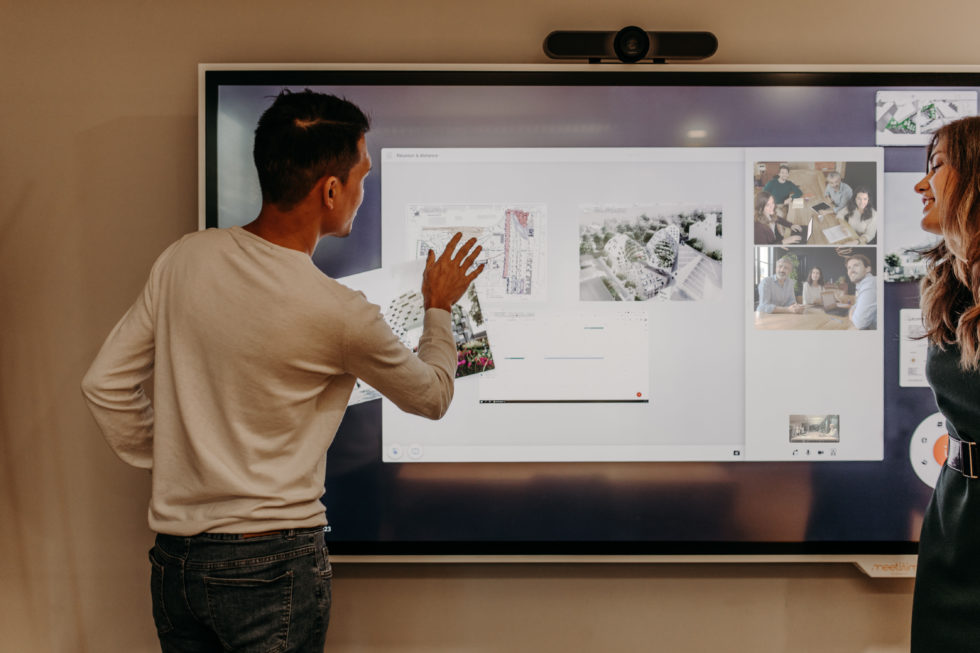 8. Provide support for a better approriation
New tools require support and appropriation. It would be illusory to believe that deploying a new tool internally to improve hybrid collaboration is enough. You need to support employees in the change and in the appropriation of the tool, show them how it is useful to them and plan workshops or training sessions if necessary. You can also choose ambassadors or referents that you will initiate beforehand.
Otherwise, the chosen solutions will be little used or not used to their full potential. Avoid this by introducing your employees to the power of the tools and especially how they will benefit from them in terms of efficiency, comfort and fun!
9. Get expert guidance
Designing virtual and physical spaces for successful hybrid collaboration is a job. Maybe it's not yours. Then entrust your project to experts. Architecture, interior design, audiovisual, but also cognitive sciences, experience design, human-machine interaction, … hybrid collaboration requires multidisciplinarity. Find out more about technological solutions and those who develop them.
10. Make your spaces evolve over time
Congratulations! You have now set up your workspaces and deployed your IT solutions for effective hybrid collaboration. But what about tomorrow? If you've followed our previous 9 tips, your set-up should last for some time. However, keep in mind to evolve your solutions as your needs change. And don't overlook the attractiveness of hybrid workspaces to your current and future talent.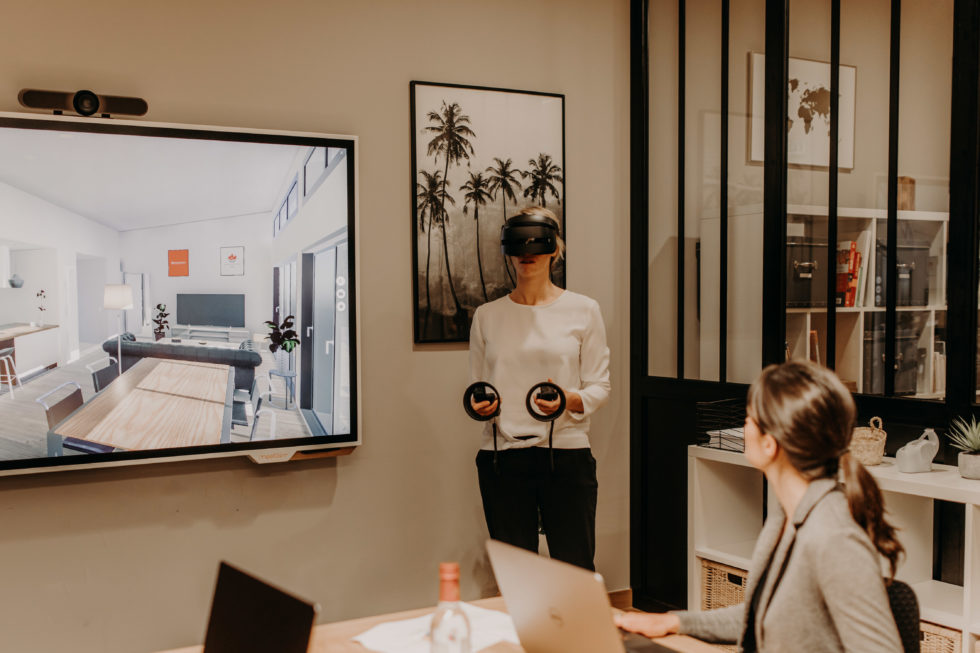 What's next ?
We have a pretty good idea of what hybrid collaboration workspaces look like with Shariiing? Contact us to discuss your project and let's bring it to life together.
Interested in the subject? Read also our article on "The new work organization requires hybrid collaboration".